Reported by David B. Kutrosky, Managing Director, CCJPA
The Capitol Corridor ridership results for June 2010 were the best month yet for the fiscal year reporting period.  Ridership for June was 7.0% above June 2009 and exceeded business plan projection by 13%.  Revenue continued its positive trend with +11.5% growth over June 2009 (and +4.5% over business plan projection).  On-time performance (OTP) was 91.4% - continuing the Capitol Corridor's streak as the most reliable train service in the Amtrak system for June 2010 as well as fiscal year-to-date.  The UPRR dispatching team did a remarkable job to recover from service delays/disruptions associated with the final signal construction for the Emeryville Station Track Improvement Project that occurred June 5-7, 2010.  OTP was 82% through June 7, 2010 and improved to a month end OTP of 91%.
Editorial by Noel T. Braymer
In the aftermath of the BP Oil gusher in the Gulf of Mexico, now in its 3rd month the President is talking about a new Energy Policy. President Obama is calling for less dependence on oil. But every President since 1974 starting with President Nixon has called for energy independence and decried this country's dependence on oil. What is needed to make this time different? When you talk about oil, you have to talk about transportation. This county consumes 25% of the world's oil production. Two thirds of the oil consumed in this Country is used for transportation and of that 45 percent alone is for gasoline.
Commentary and Photos by Russ Jackson
. . . On Time Performance.  Strange month, what with the mid-west heavy rains causing detours for several trains.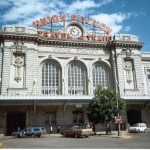 On June 24 heavy rain washed out the BNSF tracks just south of Las Vegas, New Mexico, with repairs expected to take a week and causing Southwest Chief passengers to be bused around it with a trainset sent via Amarillo.  We looked at the week of June 19 to 25 at Denver, CO and found the California Zephyr eastbound train #6 was late every day that week, 155 minutes on 6/19, 35 on 6/20, 7 on 6/21, 89 on 6/22, 42 on 6/23, and 89 again on 6/24.  The westbound #5, though, showed how difficult the mid-west had become by being late into Denver Union Station 630 minutes on 6/19, 152 on 6/20, 307 on 6/21, 137 on 6/22, 139 on 6/23, 206 on 6/24, and 123 on 6/25.  Some Zephyrs were detoured via Wyoming.