Not Exactly the Happiest Place on Earth – the New Anaheim Station as the Passenger Will See It
June 3rd, 2014
From our Orange County Steel Wheels correspondent
I don't think Anaheim City Council was ever shown the trashy view that reality has presented to future riders. You will enter the breathtaking vast public space that is Artic wedged between California Route 57 overhead and the Santa Ana River to be shuffled to the platform to await amongst Anaheim's growing homeless population and pigeons that live next to the river under the overhead Route 57 bridge. What a squandered opportunity. While waiting at track level you can admire local graffiti artists work on the drab concrete piers. You will have no view of the station, the ballpark or the Platinum Triangle.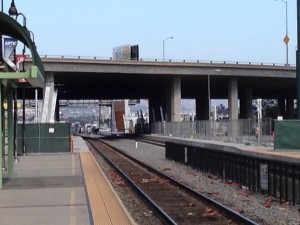 While Fullerton and Irvine now have more train riders, Anaheim City Councilmember Lorri Galloway says ARTIC will give the OC a branding monument worthy of its price: "It is iconic, futuristic — something that draws people, the mere beauty of it."
This entry was posted on Tuesday, June 3rd, 2014 at 10:11 PM and is filed under
Commentary
.