RailPAC rail PHOTOS of the month (June, 2014)
July 1st, 2014
Here are this month's photos by RailPAC photographers. Click on each photo to see it full size! Contributions to this page are welcome. Send your jpeg rail photos to Russ Jackson, RailPAC Photo Editor, at info@railpac.org.
1.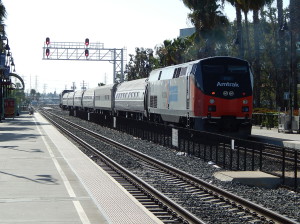 Amtrak Surfliner train departing the current Anaheim station on June 27 with "historic" locomotive 156. (Noel Braymer photo)
2.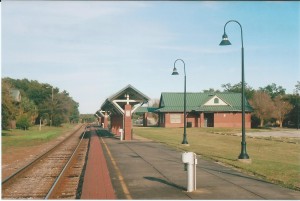 This is the lonely Pensacola, Florida, station that was once a stop for the Sunset Limited extension from New Orleans to Orlando but was discontinued after hurricane Katrina in 2005. The station is still there on March 3, 2014, and keeps waiting for resumption of the service. (Richard Strandberg photo)
3.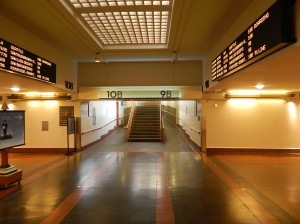 New track number signs at Los Angeles Union Station. The old drumhead numbers for the tracks are gone. (Noel Braymer photo)
4.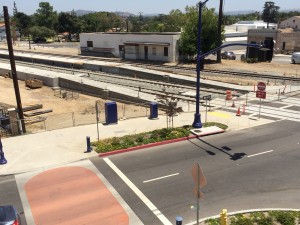 These will be the platforms at Azusa Avenue for the new extension of the Gold Line. The third track beyond the platforms is the BNSF freight right-of-way, formerly the Santa Fe's Pasadena subdivision. The white building is the old Santa Fe depot. Will this and other historic buildings be replaced? (Photo taken on June 4, 2014, from the new Target store balcony by Don Bing)
5.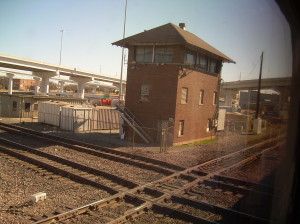 This is the infamous "Tower 55″ at the junction of the BNSF and the UP in Ft. Worth, Texas, in a photo taken from the window of the southbound Texas Eagle in February, 2011. The train is crossing the UP tracks after having waited 20 minutes for a freight train to clear. A big construction project is underway in 2014 to improve this site and cut the number of delays to all trains. The Texas Eagle has been rerouted this summer, with buses taking passengers to/from Ft. Worth from the south, including transfers from the Sunset Limited. (Russ Jackson archive photo)
This entry was posted on Tuesday, July 1st, 2014 at 11:11 AM and is filed under
Rail Photos
.